As the seasons change, so do the ingredients that appear on our menus. Autumn is a time for warming soups, hearty stews, and glorious roasted root veggies. And with Halloween just around the corner, now's the time to start getting creative with these ingredients…especially pumpkin!
Pumpkin is a wonderful vegetable because it can be used to create both savoury and sweet dishes, from sticky pumpkin pie to creamy pumpkin soup.
Throughout the winter months, October especially, pumpkins are available in their abundance – although these days the pulp can be bought in tins all year round. However, if you buy them fresh, there is so much more you can do with them, including a variety of cooking techniques – charring them on a flame or cooking over a BBQ creates a wonderful flavour.
The excitement is already building for Halloween, so it's the perfect time to add a few 'Halloween treats' to your menu. Dishes like soup, pies, pasta, scones and cakes can stay throughout the season but there's nothing to stop you from giving them a 'spooky' edge for Halloween. This can be done through decoration, with spiders, witches, and ghosts, or even giving a 'gruesome' twist to some of the meal names – probably best kept for the children's menu.
To get you started, here are a few delicious recipes using pumpkin:

ROASTED PUMPKIN SALAD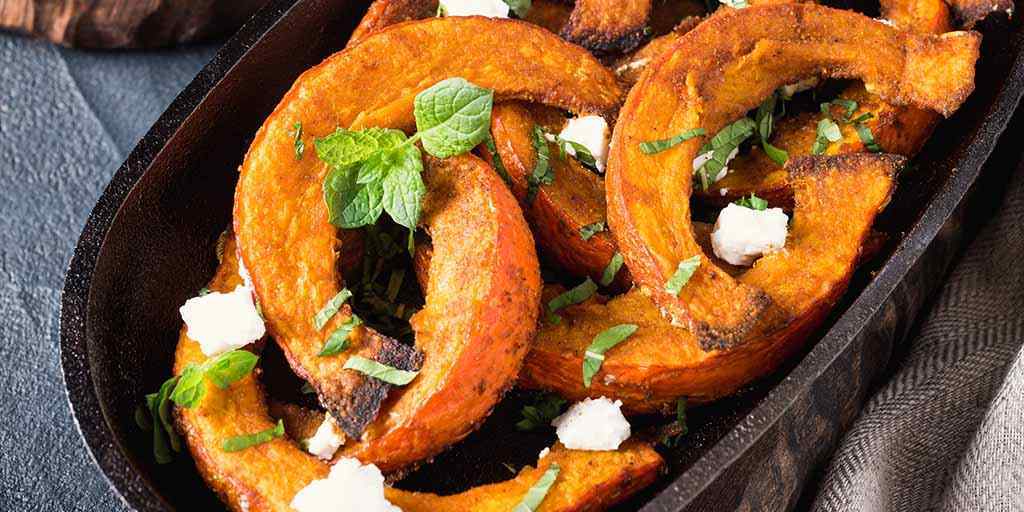 Roasting pumpkin really changes the flavour and texture and flavour of this great root vegetable – baking it in the oven on a high heat, with a little olive oil and a good pinch of salt makes it wonderfully sweet and sticky. Rather than a recipe, here are some ideas for how to use your roasted pumpkin:
Roasted pumpkin with blue cheese, a drizzle of honey, and toasted pumpkin seeds.

Roasted pumpkin salad, with feta or goats cheese, caramelized onions, rocket and toasted pine nuts.

Roasted pumpkin with honey and fresh thyme.

Roasted pumpkin with goats cheese and mint.

Roasted pumpkin with burrata, pomegranate seeds, and toasted pine nuts.

Roasted pumpkin, crispy prosciutto, crispy sage or basil, and mozzarella.
For a traditional pumpkin pie, BBC Good Food has a full-proof recipe, or for a warming pumpkin risotto, why not famous Italian chef, Antonio Carluccio's recipe.

PUMPKIN BISCUITS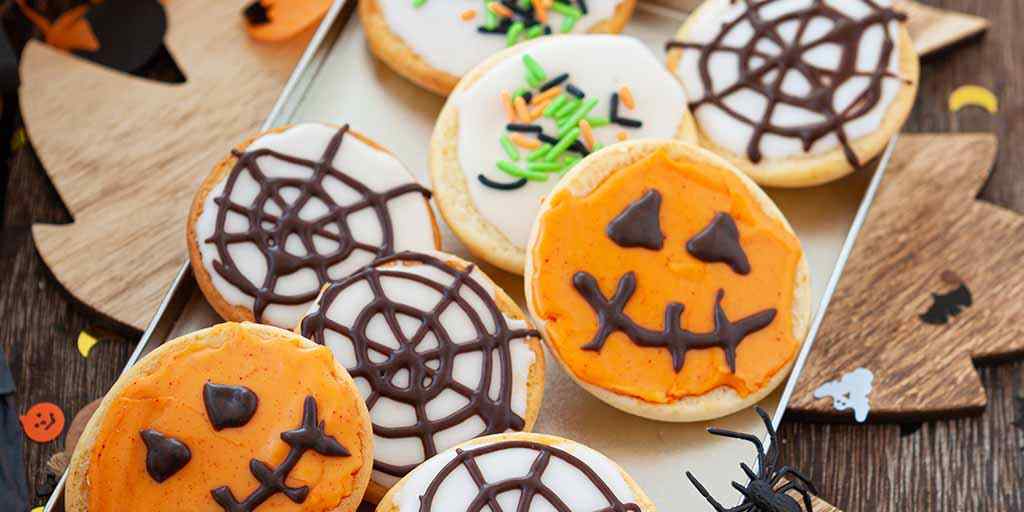 INGREDIENTS: MAKES 36 BISCUITS
340g cup all-purpose flour

1tsp baking powder

1tsp baking soda

1tsp pumpkin pie spice, or cinnamon

1/2 teaspoon salt

70g soft butter

150g granulated sugar

70g brown sugar

170g canned pumpkin puree or homemade

1 egg

1tsp vanilla extract
METHOD:
Preheat the oven to 200C/180C fan/gas 6.

Line a baking sheet with parchment paper.

In a large bowl, combine the flour, baking powder, baking soda, pumpkin pie or cinnamon spice, and salt.

In a separate bowl whisk together the butter, granulated sugar, and brown sugar for roughly 1 minute, or until light and fluffy.

Add in the pumpkin, egg, and vanilla to butter mixture, and bea until just combined.

Fold in the dry ingredients.

Portion your mixture into 36 equal balls and press down into a cookie shape, on the baking tray (they won't puff up much during baking).

Bake for 15 to 20 minutes, or until the cookies are cooked through.

Cool on a wire rack.

Top with cream cheese frosting, or Halloween designs.
PUMPKIN, FIG AND GOATS CHEESE TART WITH LEMON THYME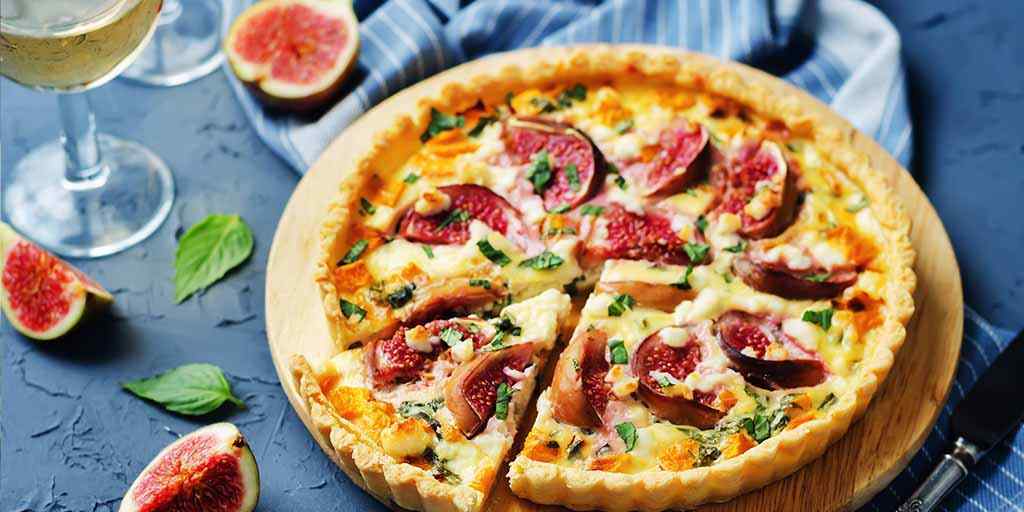 INGREDIENTS:
Pastry

(you can use pre-prepared pastry if you like)
135g of spelt flour, or plain flour, plus extra for dusting

40g of polenta, (not instant or quick-cook)

100g of cold butter, cubed

1/2 tsp salt

2 1/2 tbsp of cold water
Filling
3 large eggs

100g of soft goat's cheese, crumbled

260g of pumpkin purée, (from a can or make your own)

3/4 tsp salt

1/2 tsp freshly ground black pepper

1/4 tsp smoked paprika

1/4 tsp freshly grated nutmeg, plus extra to decorate

120ml of whole milk

3 tsp lemon thyme leaves, plus extra to decorate

3 fresh figs, halved
METHOD
First, make the pastry. Place the flour, polenta, butter and salt in a food processor and blitz briefly to fine crumbs (or rub the butter into the other ingredients with your fingers) – if using standard pastry, go to step 5.

Add the water gradually, pulsing the food processor (if using) as you go, until the mixture starts to come together when pressed between your fingers.

Shape into a flat disc, wrap in cling film and chill in the fridge for 1 hour.

Preheat the oven to 190°C/gas mark 5.

When the pastry has chilled, roll it out on a floured work surface to around 5mm thick, then use to line a 9cm loose-bottomed tart tin, pressing it into the edges of the tin with a smaller ball of pastry. Trim any overhanging pastry.

Line the pastry case with baking parchment and baking beans. Bake in the oven for 25 minutes, then remove the baking beans and parchment and bake for another 5 minutes, until the case is light golden and firm.

While the pastry bakes, make the filling.

Whisk the eggs and goat's cheese in a large bowl or jug until completely smooth. Whisk in all the remaining ingredients, except for the figs.

When the tart case has baked, leave to cool for 5 minutes then carefully pour the filling mixture into the case.

Arrange the figs over the top of the filling and sprinkle with a little more lemon thyme and another grating of nutmeg.

Bake for 30–35 minutes, or until the filling has only a very slight wobble when you move the tart tin, and has puffed up and turned light golden around the edges.

Leave to cool for a few minutes before serving warm, or set aside and serve at room temperature by the slice, with a side salad.
PUMPKIN SQUASH AND SAGE PASTA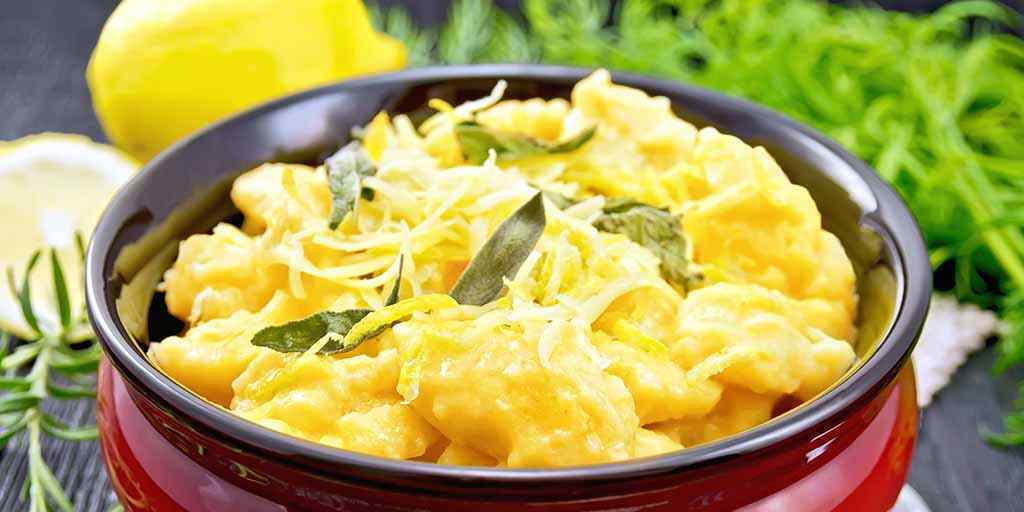 INGREDIENTS: SERVES 4
2tbsp olive oil

1tbsp finely chopped fresh sage

20 whole, fresh sage leaves

2lb pumpkin (or butternut squash), cut into small chunks

2 garlic cloves, peeled and whole

½ tsp chilli flakes – or how spicy you want it (if for children, maybe omit this)

400ml vegetable stock

Salt & pepper

Juice of ½ lemon, zest of ½ lemon

12 ounces linguine / fettuccine (or any pasta you like – gnocchi works well!)

Parmesan or Pecorino
METHOD:
Add your diced pumpkin to a pan with two whole garlic cloves and the vegetable broth, and leave to boil until the pumpkin is cooked through and liquid has reduced by half – 15 – 20 minutes.

While this cooks, fry some sage leaves in butter then set aside to crispen up.

Once the pumpkin is cooked, remove from the broth and place into a blender with the two cloves of garlic, juice and zest of half a lemon, 200ml of stock (what's left), the chilli flakes, good pinch of salt and crack of pepper, and blend until smooth.

Add to a pan and warm through gently, getting it to the consistency you like (we will add pasta water to thin it out, so a thicker sauce is best).

At this stage you want to check the seasonings – does it need more lemon? Salt and pepper? Spice? You could also add a dash of cream.

Take your parmesan or pecorino cheese and grate in a good handful.

The sauce can now be stored until it's ready to be used or to use immediately, get your pasta of choice boiling in a salted pan of water.

Once the pasta is cooked, drain and reserve some of the pasta water.

Add the pasta to your sauce, stirring through pasta water until you reach the desired consistency.

Serve in bowls and top with crispy sage, and a dusting of parmesan.

OPTION: Crisp up some prosciutto or pancetta in a pan and serve on top of the pasta.
SPOOKY PUMPKIN MUFFINS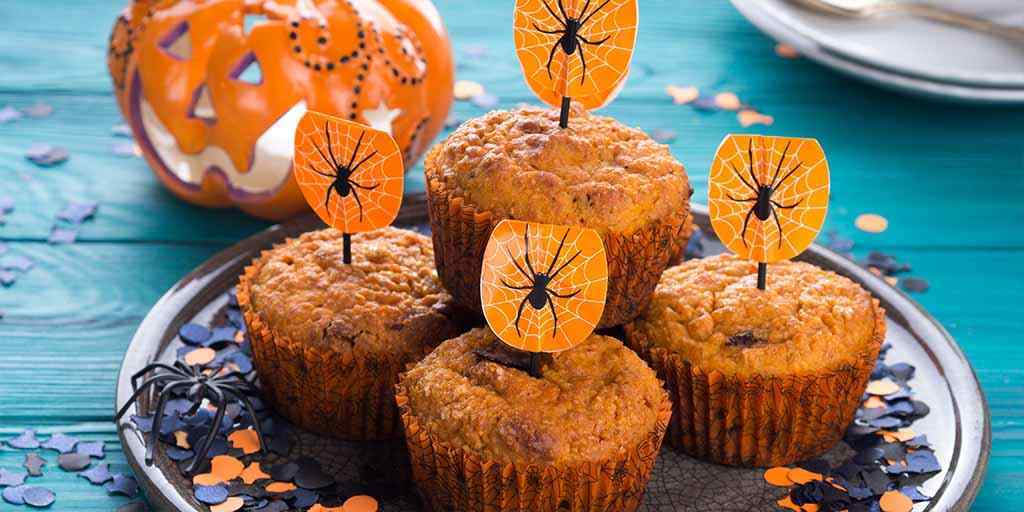 INGREDIENTS: MAKES 12
225g plain flour

2 tsp baking powder

1 tbsp ground cinnamon

¼ tsp ground nutmeg

100g caster sugar

50g soft light brown sugar

60g dark or milk chocolate chips

200g pumpkin purée (from a can or homemade)

2 large eggs

125g slightly salted butter, melted
METHOD:
Pre-heat the oven to 200C/180C fan/gas 6.

Line a 12-hole muffin tin with muffin cases.

Mix together the dry ingredients in a large bowl: Flour, baking powder, cinnamon, nutmeg, both sugars – break up any lumps of brown sugar by rubbing them between your fingers.

Whisk the purée and eggs together in a jug, then add to the dry ingredients with the melted butter.

Whisk for 1-2 mins with an electric hand whisk until just combined.

Fold through the chocolate chips then portion into the muffin cases.

Bake for 15 mins until golden/a skewer comes out clean.

Set on a wire rack to cool.

If making for halloween, top with something 'spooky' made from icing.
CREAMY PUMPKIN SOUP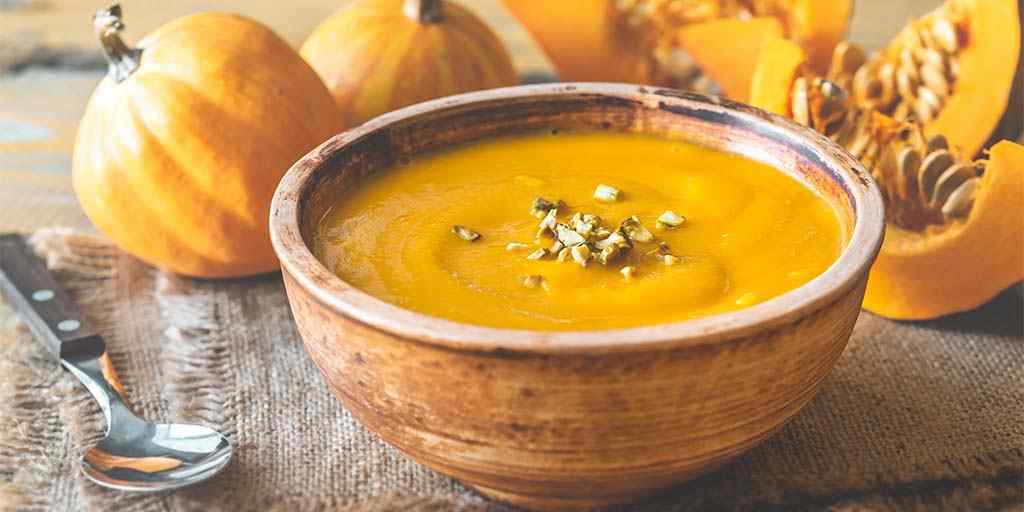 INGREDIENTS: SERVES 4-6
1.2kg pumpkin (roughly), skin removed and diced into cubes (swap for butternut squash if you can't get hold of pumpkin)

1 onion, chopped finely

2 garlic cloves, finely chopped

750ml vegetable or chicken stock

250ml water

100ml double cream

Salt & pepper
METHOD:
Cut the pumpkin in half, remove the skin and seeds, and dice into 4cm chunks

Place the pumpkin, onion, garlic, stock and water in a pot – liquid won't quite cover all the pumpkin.

Bring to the boil, then reduce heat and simmer until pumpkin is tender – this should be about 10 minutes but you can check with a knife.

Remove from the heat and use a blender to blend until smooth.

Season to taste with salt and pepper, stir through cream just before serving – leave a little to drizzle on the top.

Top with some toasted pumpkin seeds and serve with fresh bread.